Everything you need at your fingertips
Streamline your business and free up your valuable
time with a host of easy-to-use tools designed for Irish
childcare regulations
"We've been using the automated NCS report to track all our subventions, hours and calculations. To have everything I need at the push of a button has given me back so much of my time. To say it's useful would be a big understatement."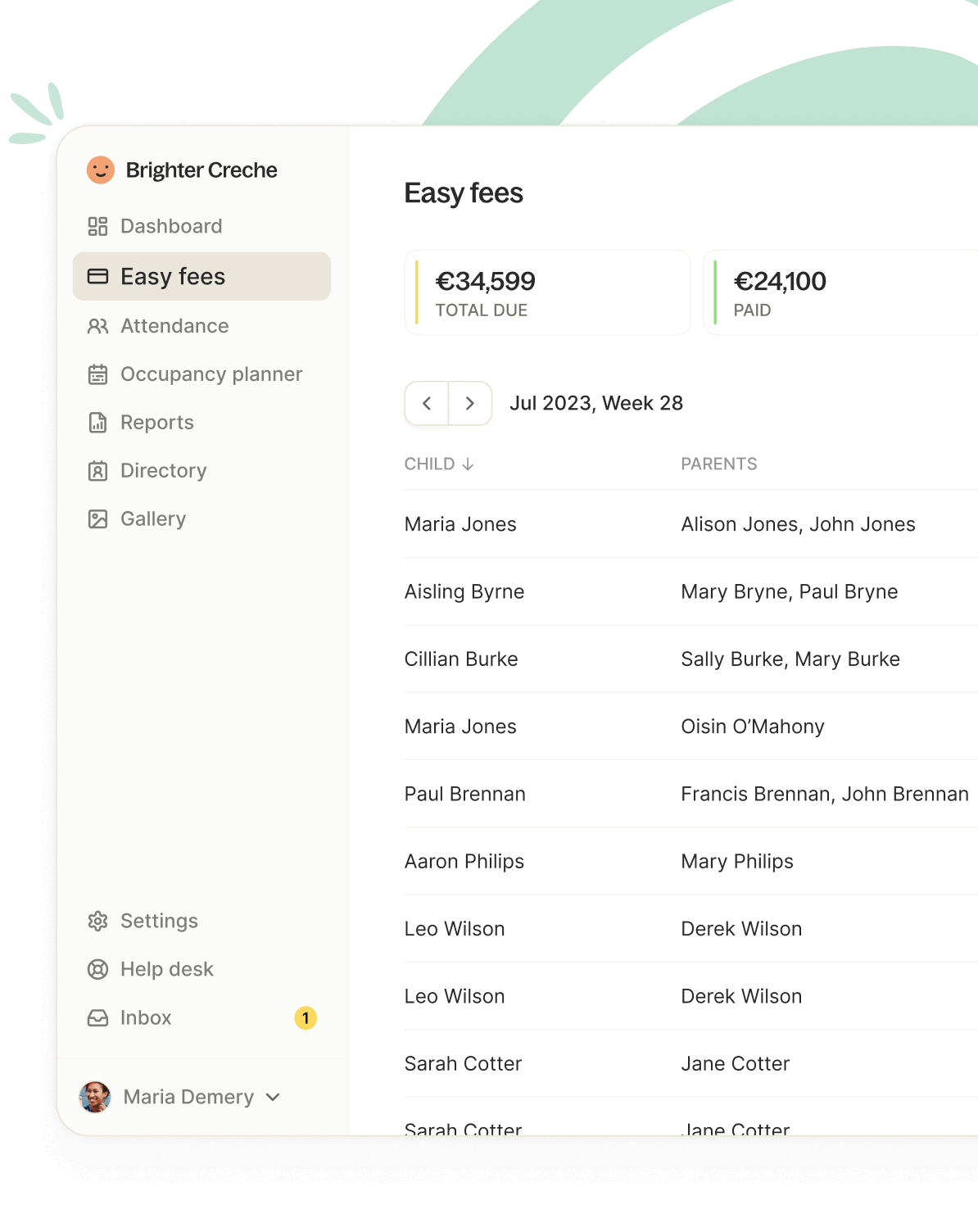 What is the Manager Dashboard?
The Manager's Dashboard is a user-friendly toolkit that simplifies the day-to-day
running of your childcare business. Designed specifically to meet the requirements of
Irish childcare regulations, it has all the features and functions you need to run your
business efficiently and with ease. Enjoy instant access to the information you need
anytime and from anywhere.
Inspector-approved reporting
Handle inspections with confidence and ease.
Professional, compliant and printable reports
Instant access for unexpected drop-ins
Automatically updated in real-time
Our last Pobal inspector absolutely loved the software; she was thrilled with the digital reports.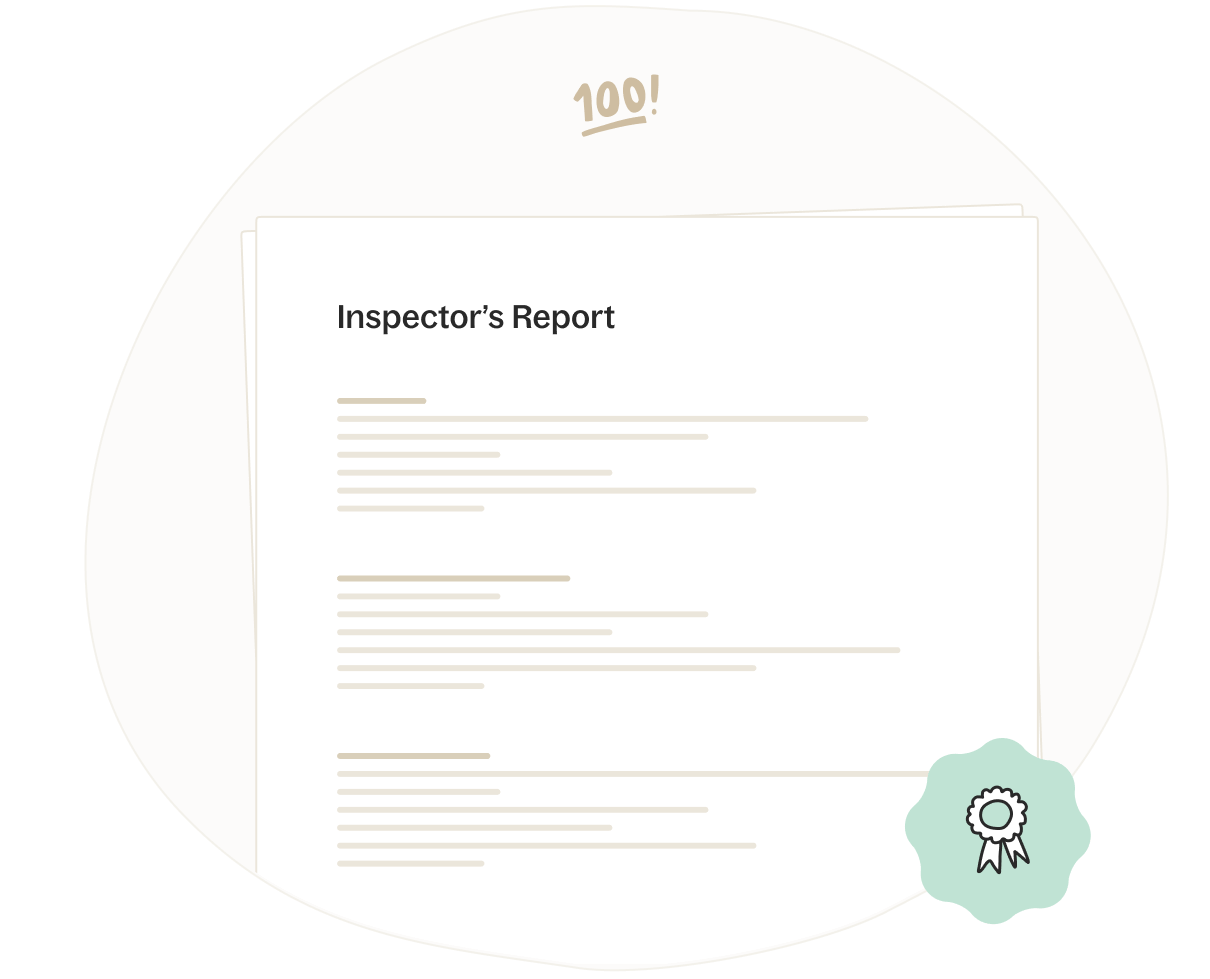 NCS & Attendance Management
Reduce your NCS admin time by over 80%.
Auto-Filled Pobal-compliant reports
Automated Calculations
Under-Attendance Flagging
Subvention & Chick-ID Tracking
"The NCS Attendance tracker has literally changed my life. What used to take me 4 hours now takes me 30 minutes"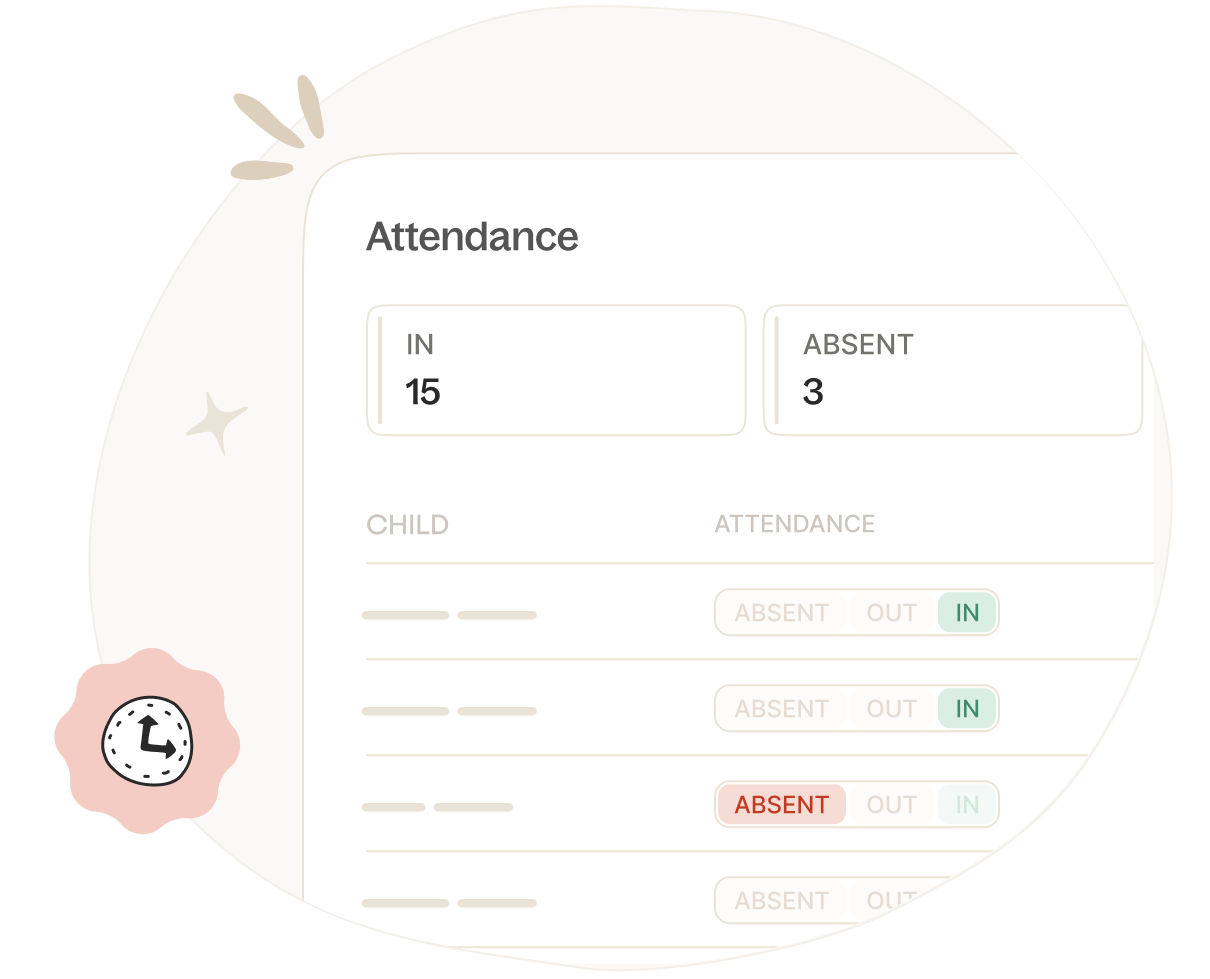 Learning, Education & Observations
All things education at your fingertips.
View, edit, print and share Learning Journals
Aistear, Siolta, Montessori & Milestones
Monitor Progress & Development
Dept of Education Compliant
"The staff find the observation section fantastic; it is so much easier to do observations and learning activities. We find it a great way to communicate with our busy parents"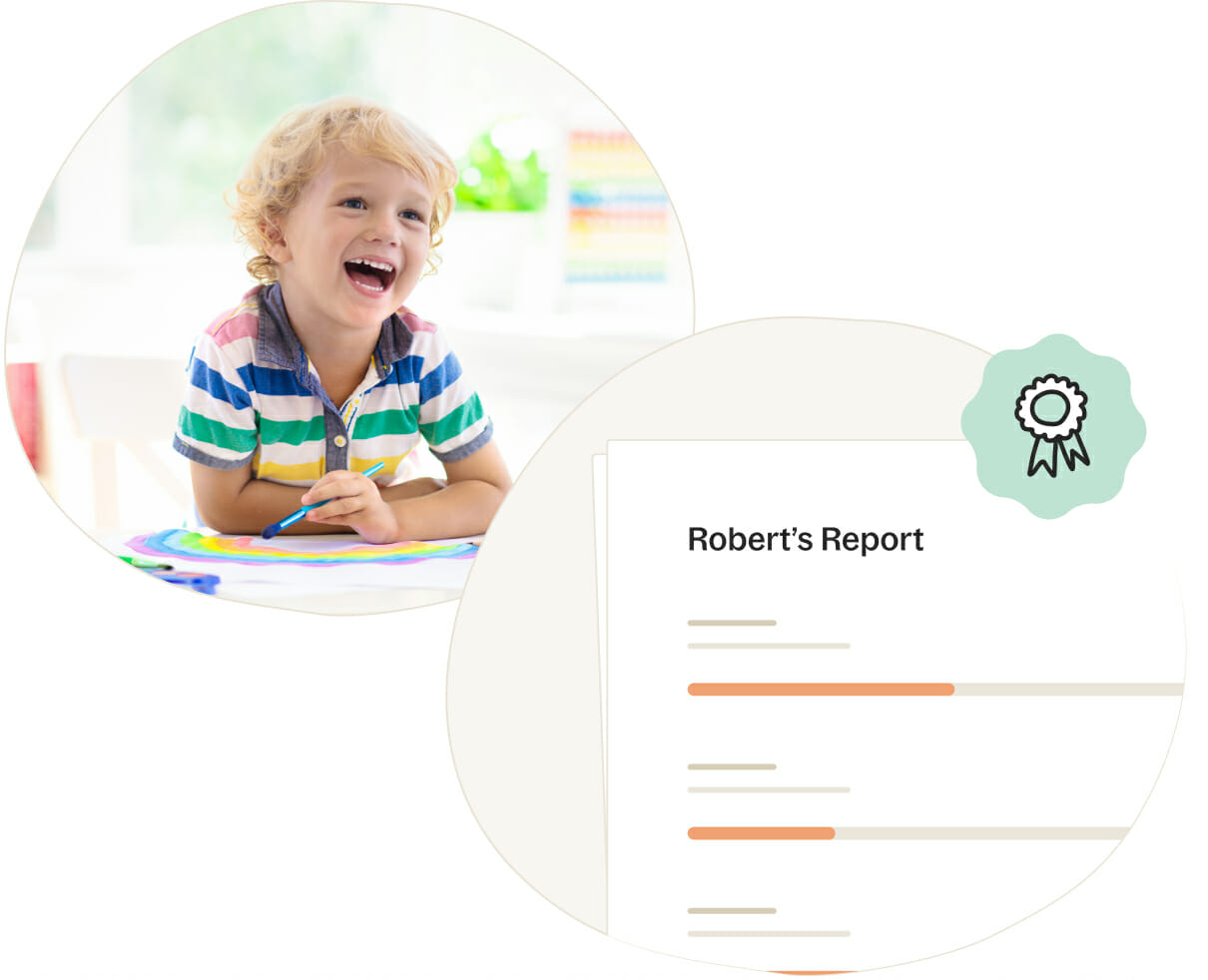 Checklists, Forms
& Digital Signatures
Convert any paper form into a digital document
or choose from our wide range already available.
Every checklist and any form
Customisable for your business
Automated scheduling and sharing
Digital Signatures
"I sent out photo consent forms and got them all back in 20 mins. This feature is genuinely life-changing."
Real-time Communication
No more texts and emails. Enjoy instant messaging with your staff and customers.
Individual, Group or Room Messaging
Share documents, photos and videos
Push Notifications & Alerts
Read Receipts (see who has read what)
"We quickly realised the benefits of Little Vista for communication. We wouldn't be without it now"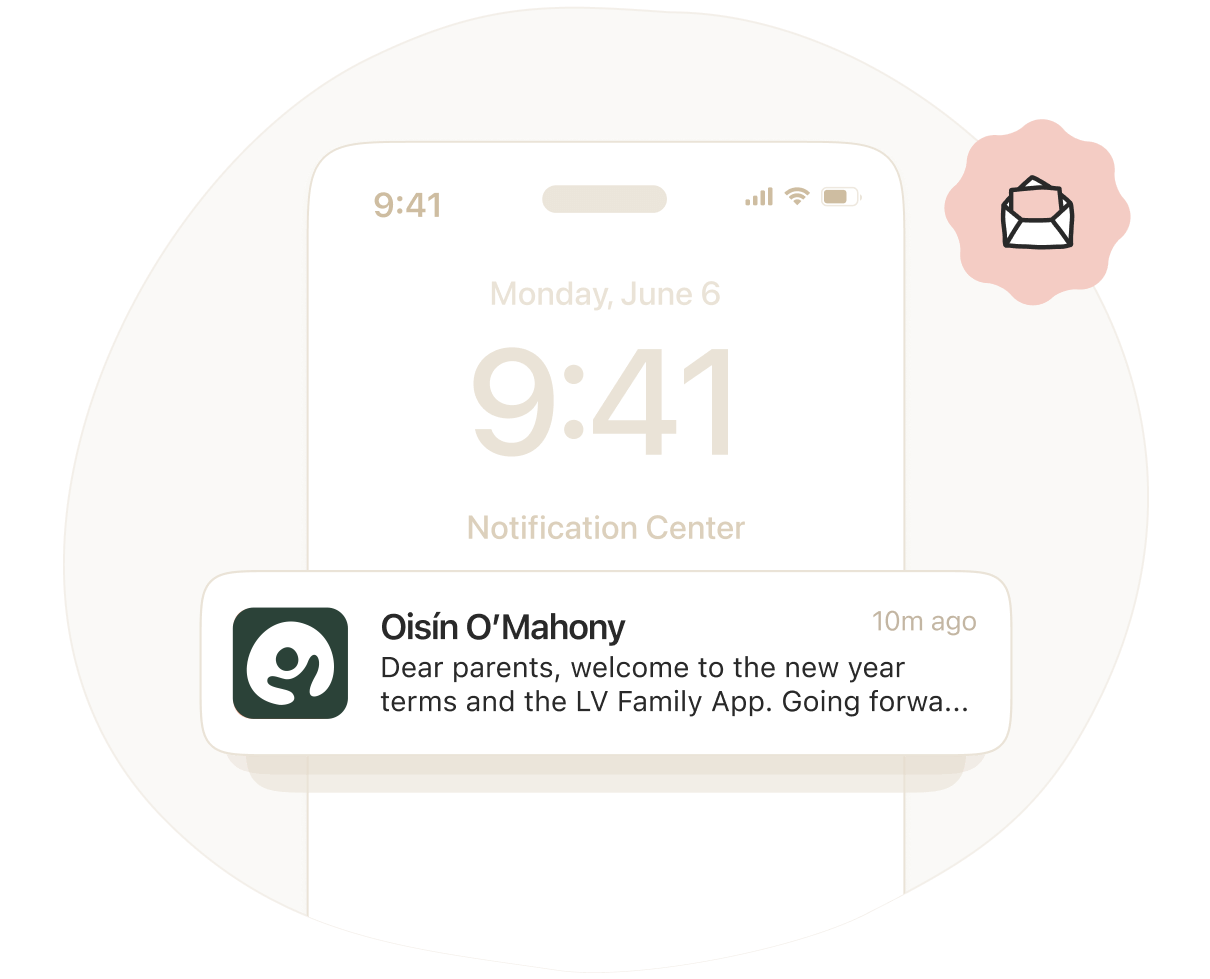 Fee Management
No more chasing late fees or tedious bank reconciliations.
Track Payments and Subventions
Send Automated Invoices
Download detailed payment reports
Collect fees via direct debit (optional)
"The 'Easy fees' feature on Little Vista has revolutionised my business and saves me countless hours of administration each week"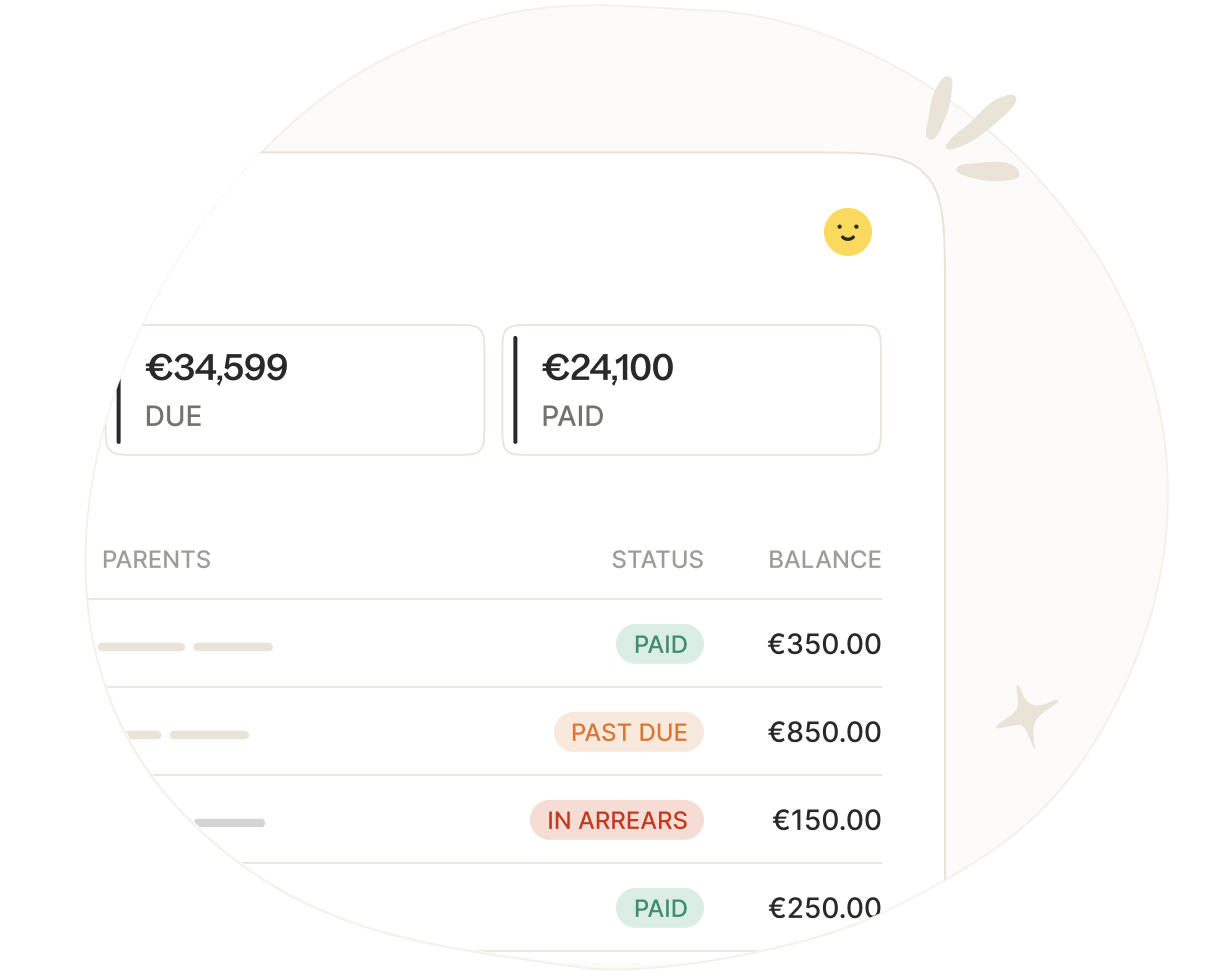 Occupancy Planning
Improve efficiency and increase profitability
View available spaces in real-time
Manage Enrolment
Waiting Lists
Automated room transitions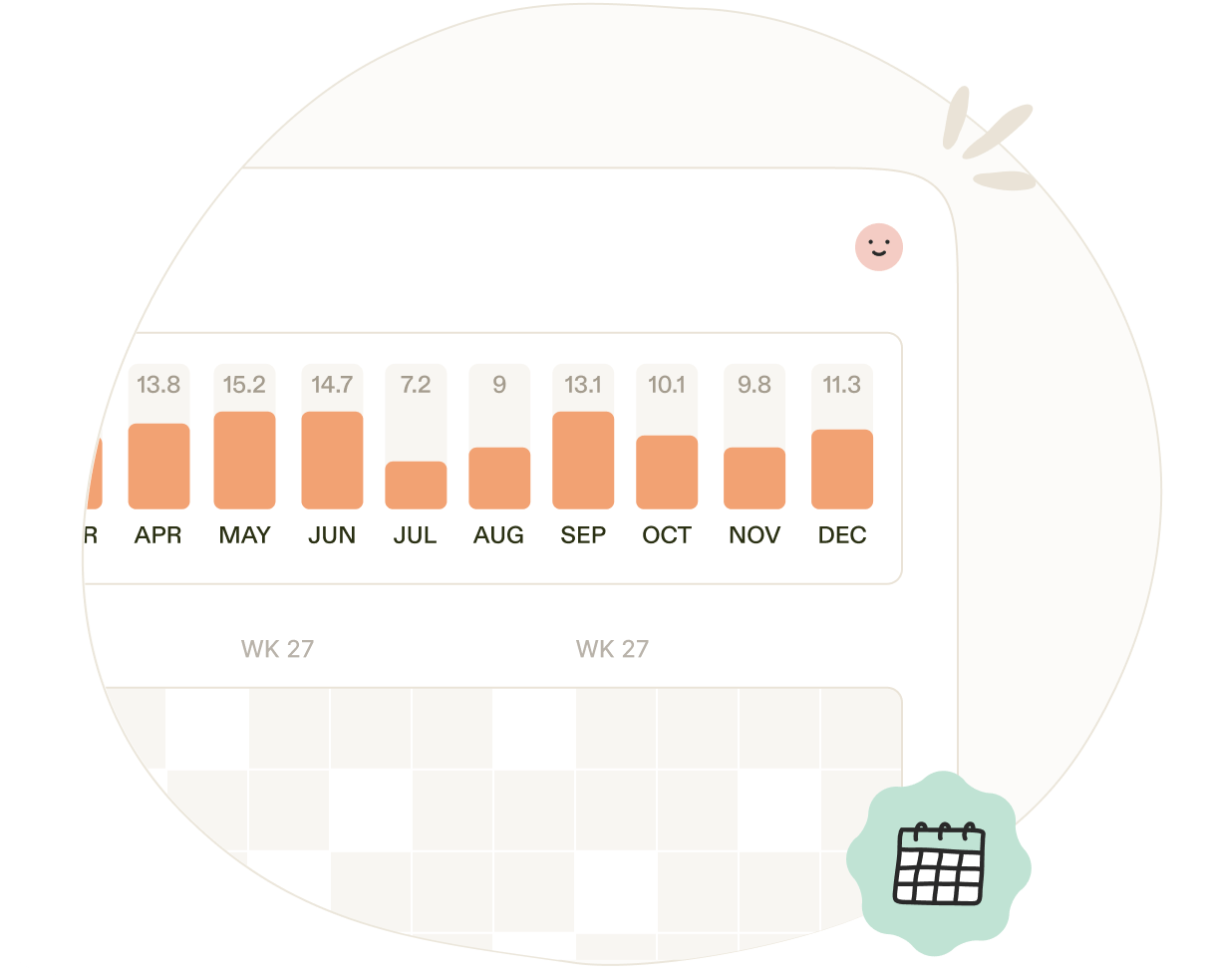 Empowering thousands of childcare
providers across Ireland
We have used Little Vista in our services for several years. With 5 locations in North Dublin, it has helped massively reduce paperwork and effectively manage occupancy planning and improve parent communications. We have found it to be an excellent tool and can't recommend it enough.
We have been using Little Vista for 12 months now. I can 100% recommend it without hesitation. We have a large service and the manager platform allows me to keep track of all children and their families and the interactions that occur between parents and the early year professionals.
It was a fantastic way for Educators to communicate with parents as we had to reduce all face to face contact. We quickly realised the benefits of Little Vista in communication, record keeping and attendance tracking. We have since started using it in 2 other centres.
We have been using Little Vista since July 2019 and it has been a huge success in our service. Parents and staff both love it; it has saved on paper usage in the place and has speeded up doing paperwork; parents and staff can communicate between themselves much easier.
Little Vista has made such a difference to our service. We went from a small service to a medium-sized business in a short space of time and Little Vista has made it much easier for us with attendance records, recording meals, sleep, and toilet activities.
We started using Little Vista in 2020 and find it brilliant. The Little Vista system has significantly reduced the time we were spending on our administration. You can have a report of a child's attendance in a matter of a few clicks.
Used By Irish Superheroes. Loved By Irish Inspectors
Find out why over 95% of customers "definitely recommend" Little Vista
We'll walk you through how Little Vista works, show you what plan would best suit your childcare service, and answer any questions you might have.
Explore the entire Little Vista offering
Manager App

Automate payments, slash NSC paperwork by half, and create printable reports in seconds. A 360-degree snapshot of all creche activities wherever you are.

Care App

Create detailed observations and link learning activities to curriculum objectives with ease. Say goodbye to reams of paperwork and get your cupboard space back. 

Family App

Reassure and delight parents with daily updates of their child's activities. Send messages in minutes and see who's read the information through read receipts.