AI & Advanced Software: 5 Innovative Ways Irish Childcare Centres are Using Technology in Education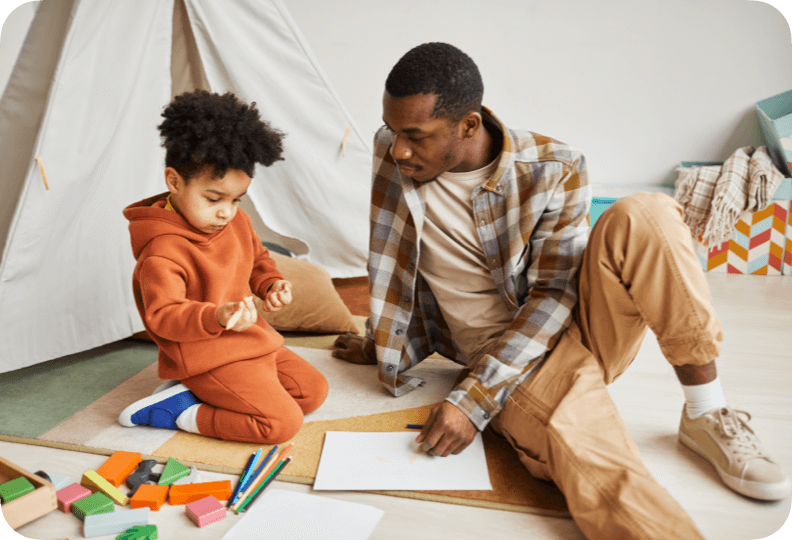 The childcare industry in Ireland and Northern Ireland has come a long way in recent years. From developments in how the industry is regulated to the heightened importance of a solid educational structure – every childcare provider in Ireland has to step up their game.
But in today's rapidly-evolving childcare sector, how can early years educators keep up?
We'll show you how AI tools and software are being used to improve early years education and which solutions might best suit your needs.
Let's dive in!
1. Efficiency tools
One of the biggest challenges for childcare centres and educational institutions in Ireland is trying to balance exceptional service with the obstacles of running a business. At face value, all parents see is the baseline service your centre provides. But behind the scenes, there's a multitude of red tape and administrative tasks to juggle.
Luckily, advancements in technology mean that your team no longer has to battle with inefficiencies caused by poor administrative management or human error. With the right tools in place, you can speed up processes and even automate tasks completely!
For example, childcare centres are currently leveraging digital efficiency tools like:
Advanced accounting software: Modern accounting software can help streamline your financial management with the ability to track expenses and generate instant reports for audits.
Smart attendance tracking solutions: Attendance tracking solutions not only make your attendance records more precise, they also give you instant access to data that can help you manage and plan staff resources more effectively.
Online appointment scheduling: With online scheduling tools, parents can book appointments, tours, and meetings online, reducing time spent on back-and-forth phone calls and emails. This is a win-win for everyone involved, as it not only saves time but also enhances communication.
Staff management software: Staff management software ensures that you have the right personnel at the right time, minimising disruptions and optimising your staff scheduling and classroom management.
Inventory management systems: Inventory management tools help you keep track of essential supplies – like educational materials, cleaning products, and snacks — so you never run out of necessary items!
Automated billing and invoicing: Streamlining your billing processes with automatic invoices not only saves time, it also helps reduce the risk of errors and ensures parents are billed promptly and accurately.
Tip: To evaluate which efficiency tools best suit the size and requirements of your childcare centre, identify areas in your operations that currently consume valuable resources. Then begin researching solutions from reputable providers or request recommendations from peers.
2. Parent communication portals
As early years childcare in Ireland has evolved, today's parents now seek real-time updates on not only their children's educational activities, but also their meals, and even sleep patterns.
Unfortunately, most childcare providers don't have the time to provide parents with detailed reports on each child, every day. That's where parent portals come in.
With the right parent communication tools, your childcare team can share individual or group updates with parents, complete with photographs and videos.
The benefits of this include:
Stronger parent engagement and satisfaction: Real-time updates, including photographs and videos, can make parents feel more involved in their child's daily experiences, leading to higher satisfaction and trust in your centre's care.
Increased transparency: Parent communication tools allow parents to see what their child is doing throughout the day. This kind of transparency offers peace of mind about your childcare centre's operations.
Improved accountability: Parent portals can help keep a digital record of activities, meals, and sleep patterns. This documentation ensures that both parents and childcare providers can monitor and assess the child's well-being and the quality of care.
Streamlined communication: Parent portals offer a centralised platform for communication. This streamlines the flow of information, easing the administrative burden on staff.
Enhanced educational experience: Beyond the basics, parent communication tools enable childcare providers to share educational milestones, activities, and developmental progress — enriching each parent's understanding of their child's educational journey.
3. Digital learning platforms
Digital learning platforms are another great way for childcare providers to enhance the educational experience for both students and teachers.
With cutting-edge educational technology – including the aid of Artificial Intelligence (AI) or Virtual Reality (VR) – childcare centres can create customisable learning paths, craft more engaging experiences, and prepare students for the years ahead.
Examples of how to leverage innovative technology such as AI and VR include:
Personalised learning with AI: AI-powered platforms create individualised learning paths, catering to each student's strengths and learning capabilities.
Immersive learning with VR: Virtual Reality enhances engagement by providing interactive and immersive educational experiences, e.g. virtual tours across the globe.
Data-driven insights: AI analyses student data to offer valuable insights, allowing educators to tailor teaching methods effectively.
Teacher AI assistance: AI-powered tools aid teachers in planning lessons, assessing student progress, and providing timely feedback.
4. Safety and security solutions
While child safety has always been important in early childhood education and care, today's parents expect constant assurance that their child is in safe hands throughout the day.
Technology plays a crucial role in meeting these expectations — not only by enhancing the safety of your childcare centre, but also by providing parents with access to information about their child's well-being.
Here are just some of the ways technology contributes to safety and reassurance:
Advanced security systems: State-of-the-art security systems with recorded camera footage ensures real-time monitoring and protection for your childcare centre.
Secure access control: Secure access control systems help safeguard children by limiting unauthorised entry.
Instant alerts: Some technology allows you to send instant alerts to parents if any unusual activity or incident occurs within the childcare centre.
Compliance checks: Certain childcare management software solutions can help you regularly assess and upgrade your in-house processes to meet evolving safety regulations and compliance standards.
5. Childcare management software
Where early years learning and childcare are concerned, you can never invest too much time into providing a better service.
This is where childcare management solutions can be hugely beneficial.
With all-in-one features that simplify your childcare business's administrative tasks – like enrollment management, billing, and attendance tracking – the right childcare business or school management software solution can be a game-changer.
While all childcare centre management solutions will have different features, Little Vista's platform offers the following key features:
Group updates: Efficiently record attendance, meals, sleep-checks, bathroom breaks, and activities for large groups of children – all in seconds.
Activities & learning: Enhance education with photos, text, and curriculum integration (Aistear, Montessori, and Milestones).
Observations: Easily record child development observations, with the ability to add photos, curriculum, and next steps.
Communication features: Keep families and guardians informed with daily updates, learning journals, artwork photos, activities, and special moments.
Reports generation: Log daily attendance for staff and children, manage ECCE and other subventions, and generate up-to-date monthly reports for Pobal inspections.
Fee collection: Simplify fee collection and payment management, including direct debits, to eliminate payment chasing.
Occupancy planner: Efficiently enrol children in morning and afternoon sessions, improving tracking, planning, and forecasting available places.
Resource savings: Go paperless with digital records, benefiting both the environment and your budget.
At Little Vista, we empower business owners to look forward, not back. With a childcare management software experience that simplifies the entire running of your business, you can ensure your childcare services lead the way!
Ready to revolutionise your childcare centre? Reach out to our team or book a demo of the software today.